With the many practical features and functions of Bookwire OS, publishers control all processes in the production, distribution, marketing and analytics of their digital products in one software.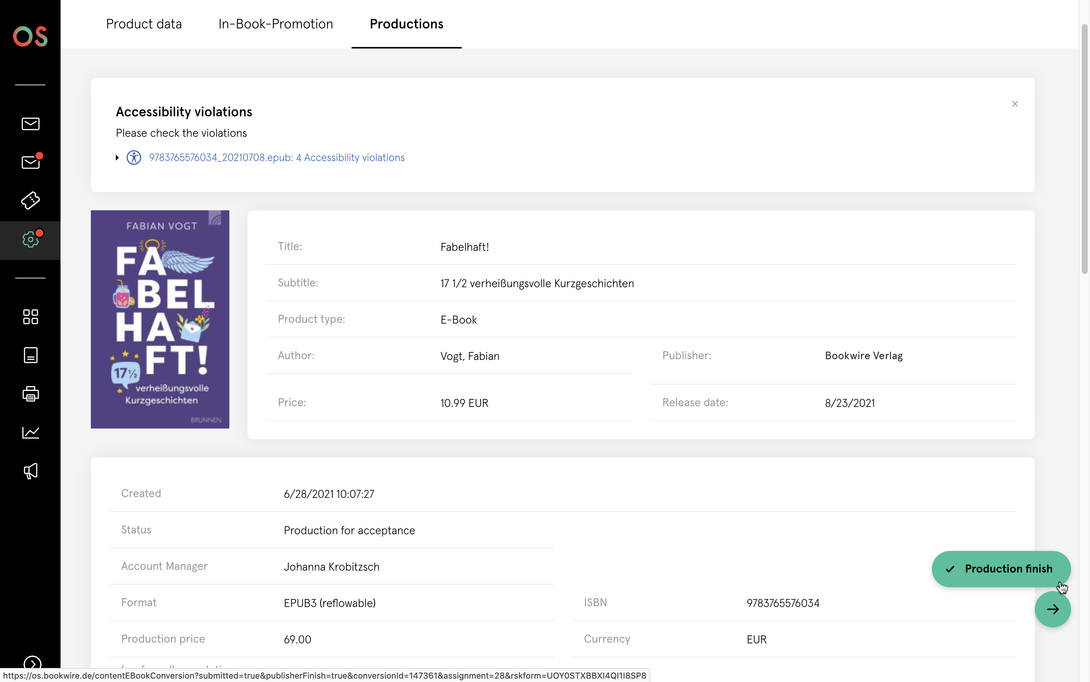 Conversion into all popular formats with slimline processes directly in Bookwire OS. Our experts will provide detailed advice on the selection of the right format and the conversion from your print original.
Your audiobooks are implemented professionally with the audiobook production service WAY, and are then delivered around the world to all sales channels. The high-quality process is fast and individually controllable while all rights to your content remain with you.
BASS – Bookwire Audiostream Snipping
BASS optimises your audiobooks automatically for distribution in streaming channels: Short tracks in faultless sound quality ensure maximum revenue in track-based distribution models.
Perfect Product – Metadata Optimisation
Maximum visibility: Bookwire OS creates automated suggestions for optimising all title metadata – combined with individual preparation for the requirements of the respective shop, they are optimally adapted for delivery.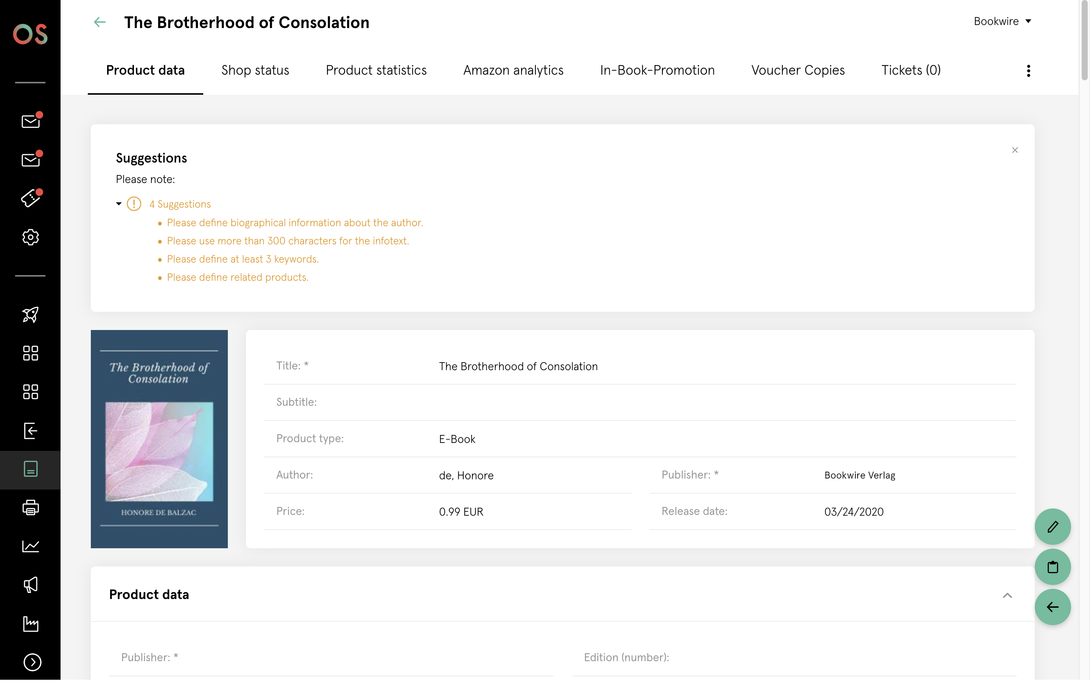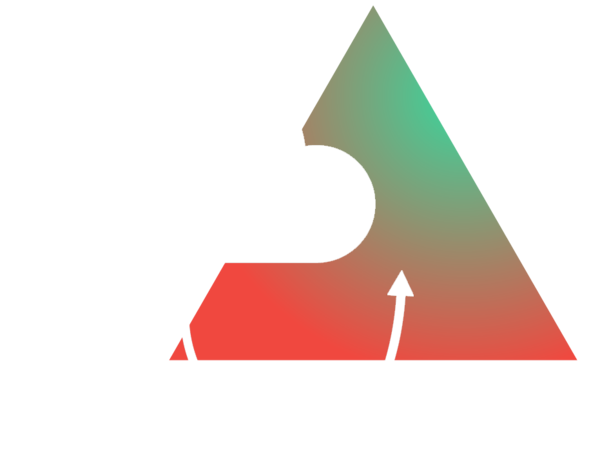 Your content is made available worldwide via Bookwire OS – in all relevant shops and distribution models, with complete flexibility regarding distribution rights, pricing and channels.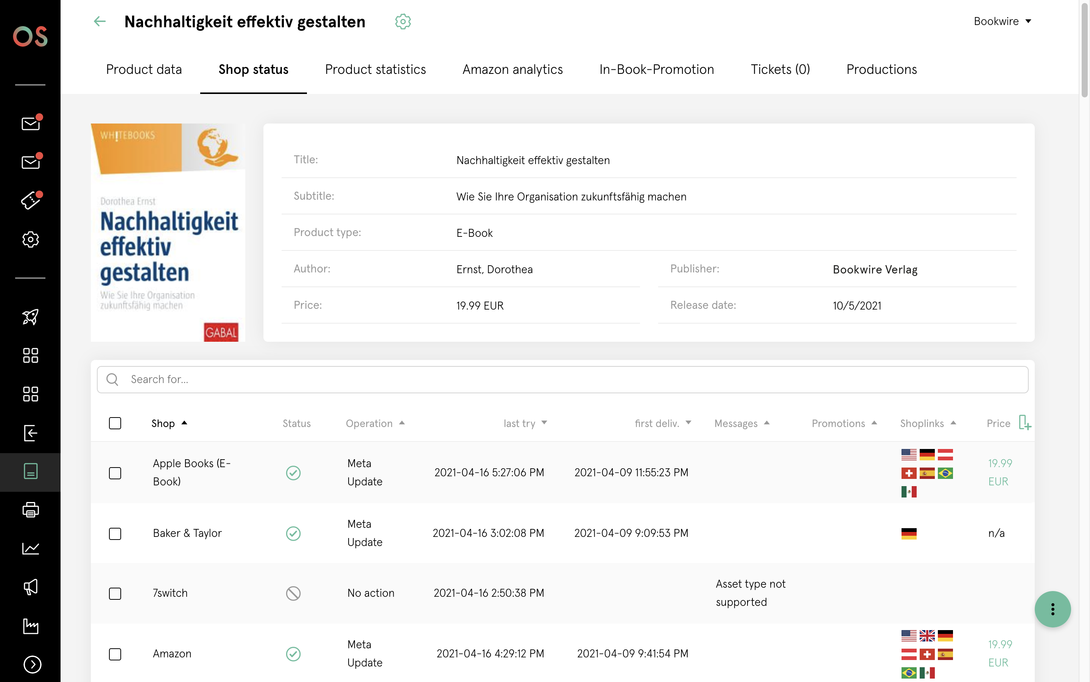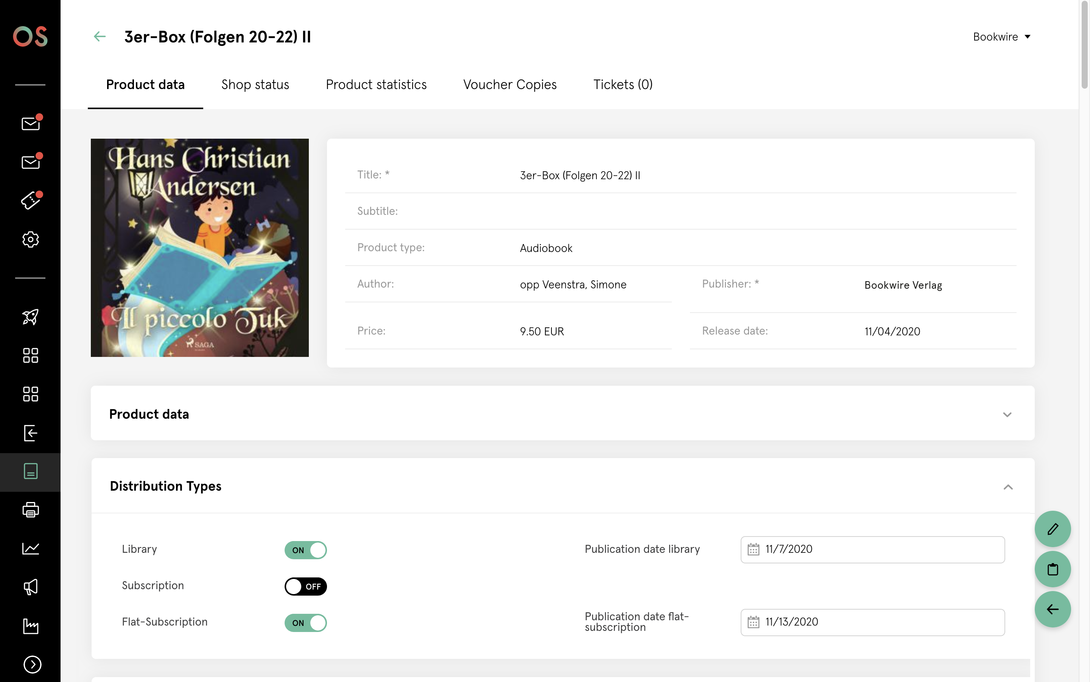 Product Lifecycle Management (Windowing)
Optimise how your content is used in Bookwire OS using windowing – the intelligent way to control your business model. From standards for automatically time-delayed delivery, to individual release for individual models.
Automated file validation & quality control
All files are automatically checked for the technical standards and criteria of the relevant shops. Detailed error reporting indicates areas where improvements are needed. With our validation service, you can also update older eBooks to the latest technical standard with very little cost to you.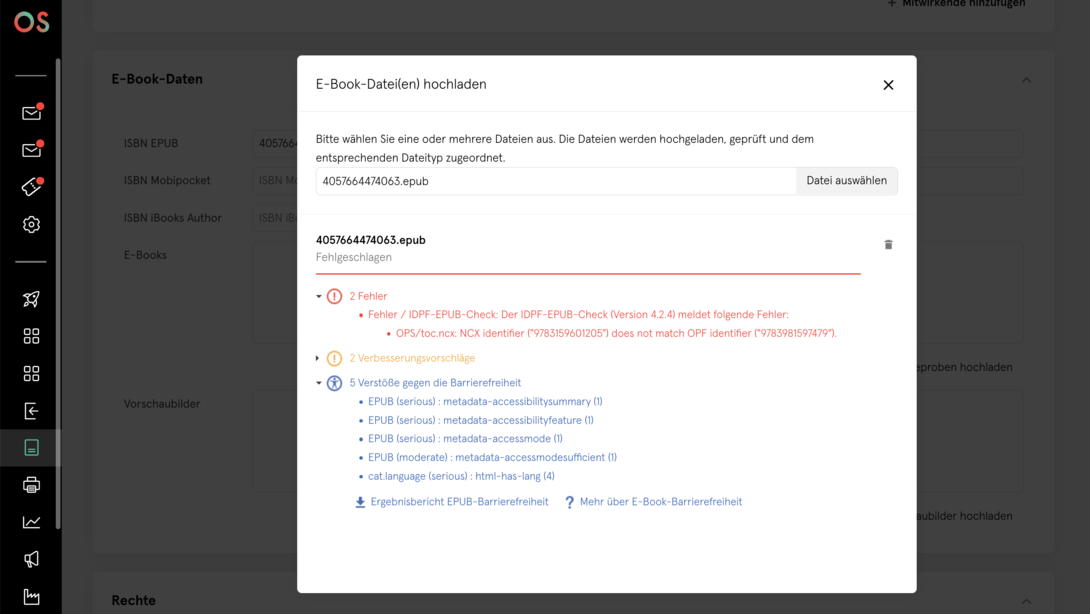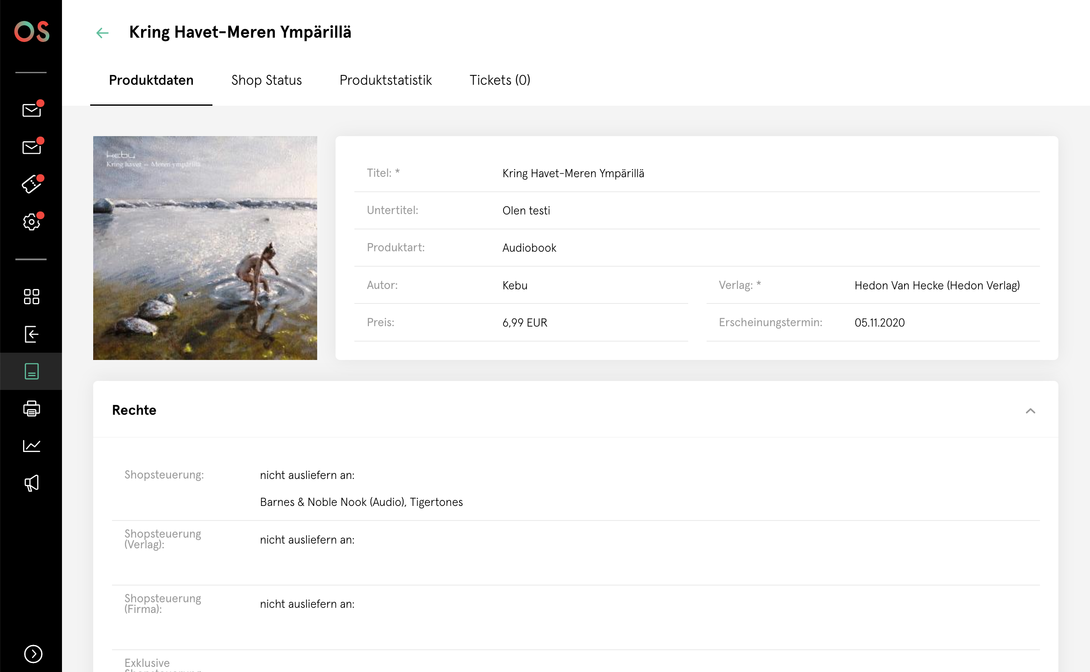 Distribution Channel Flexibility
Bookwire OS offers you the flexibility you need to customise the setup of your sales channels. We cover everything in a single platform – including the fulfilment of your own contracts with individual shops or an aggregation model via Bookwire.
Paperback or high-end hardcover? The PoD service allows the print business to be controlled individually and with complete cost transparency. Distribution is done via book wholesalers and an Amazon interface. Drop shipment orders and in-house publisher print orders are also an option.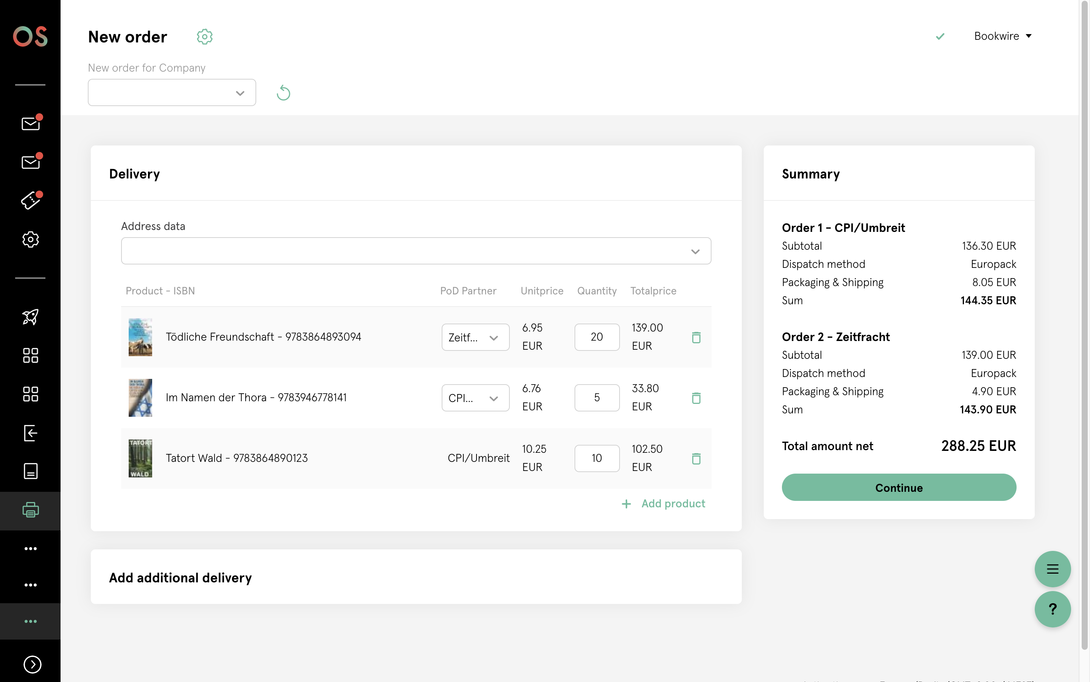 Pushing bestsellers to new heights: our marketing experts will assist you in the placement of top selling titles in the shops or in the targeted booking of market development funds (MDF).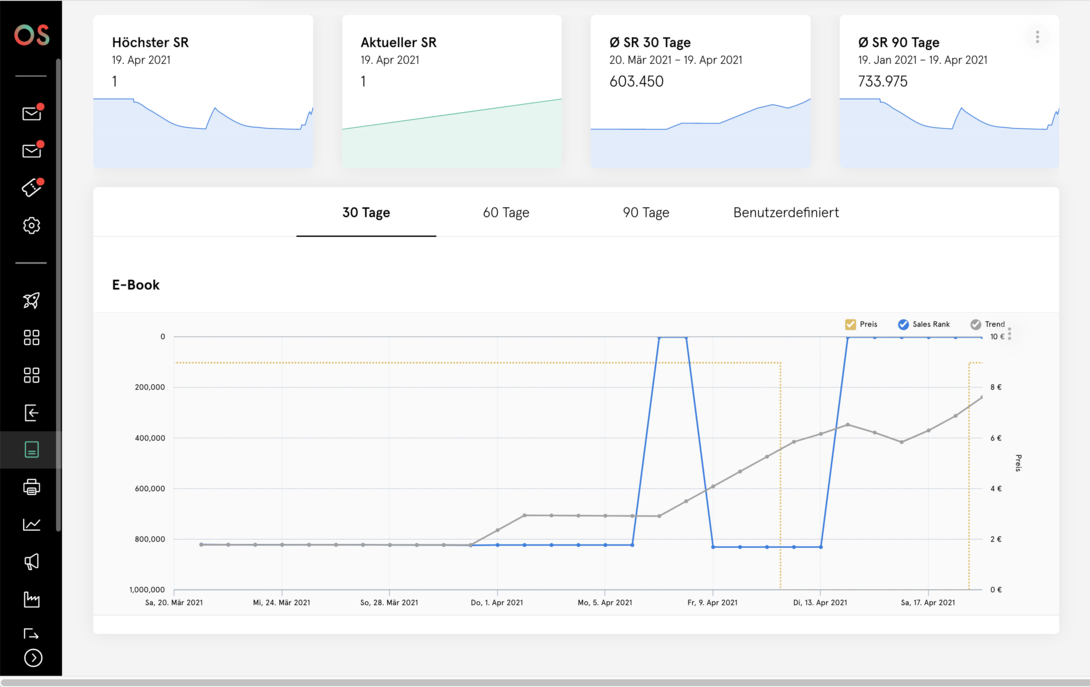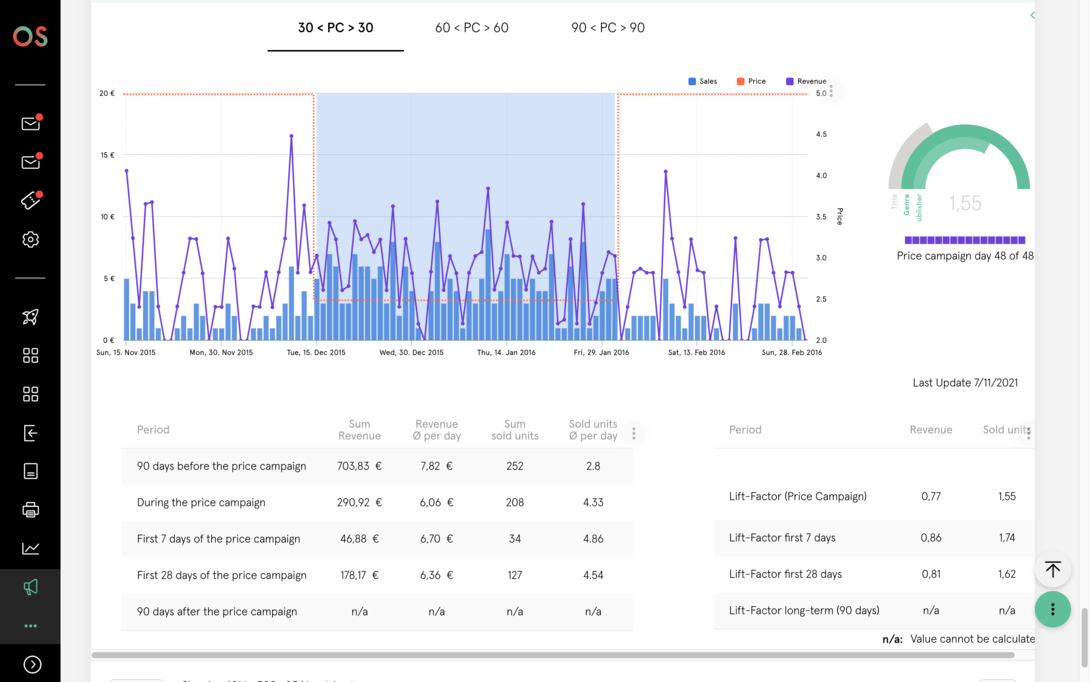 Pricing campaigns are an effective and popular tool for increased sales and revenue. From automated price creation to communications with the shops, and from the promotion of your titles to their evaluation: each individual step is done in Bookwire OS.
Amazon Advertising, Kindle Deals or A+ pages: Our marketing team offers help and support for targeted marketing campaigns in the world's most important sales channel. Talk to us today!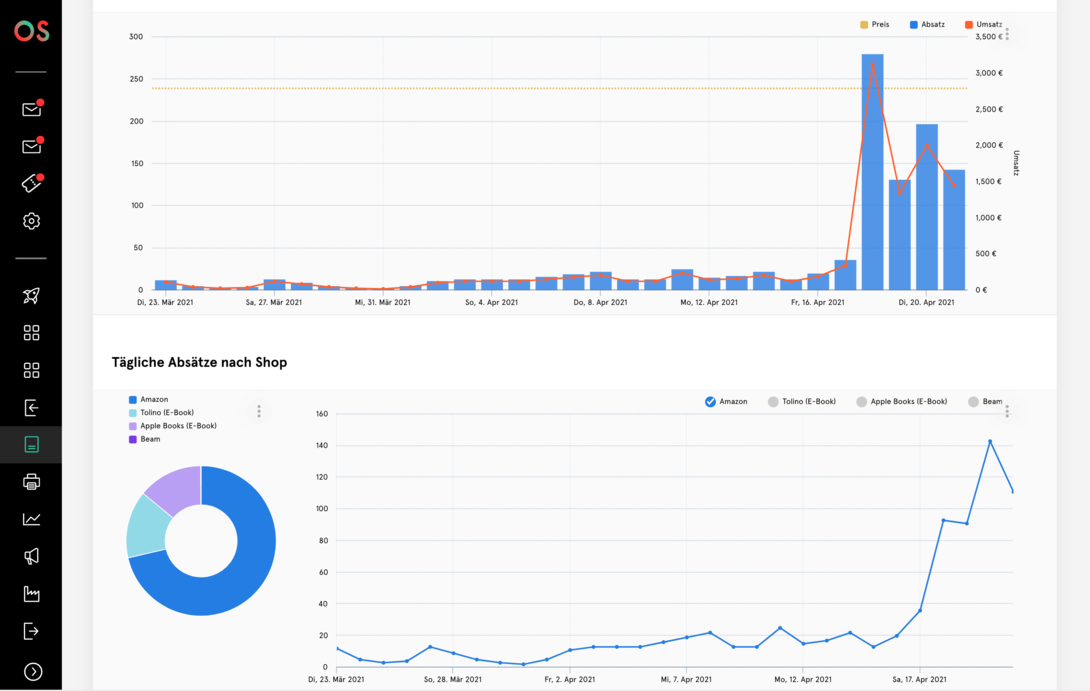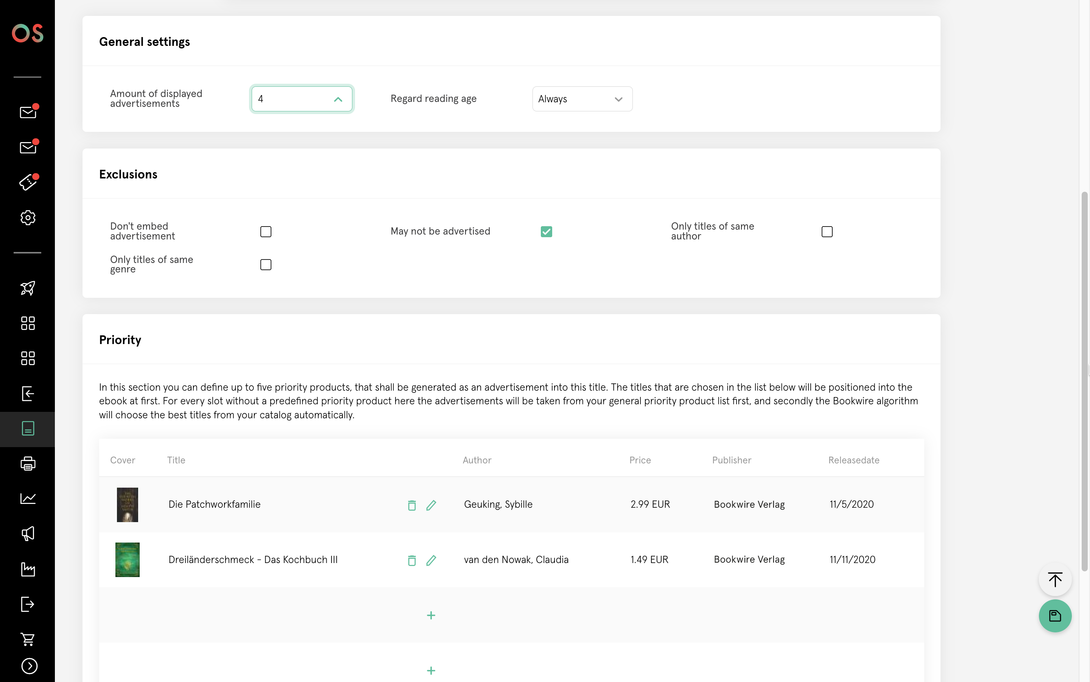 Dynamic In-Book Promotion
Reach your target group directly with dynamic reading recommendations for your eBooks. Up to five additional eBooks, including shop-specific links, can be integrated in each title as ads – automatically or customised for each title.
More visibility: with our marketing partners NetGalley, Thalia next, BuchDeals, book2look and others, you can increase the reach of your titles effectively and at attractive conditions.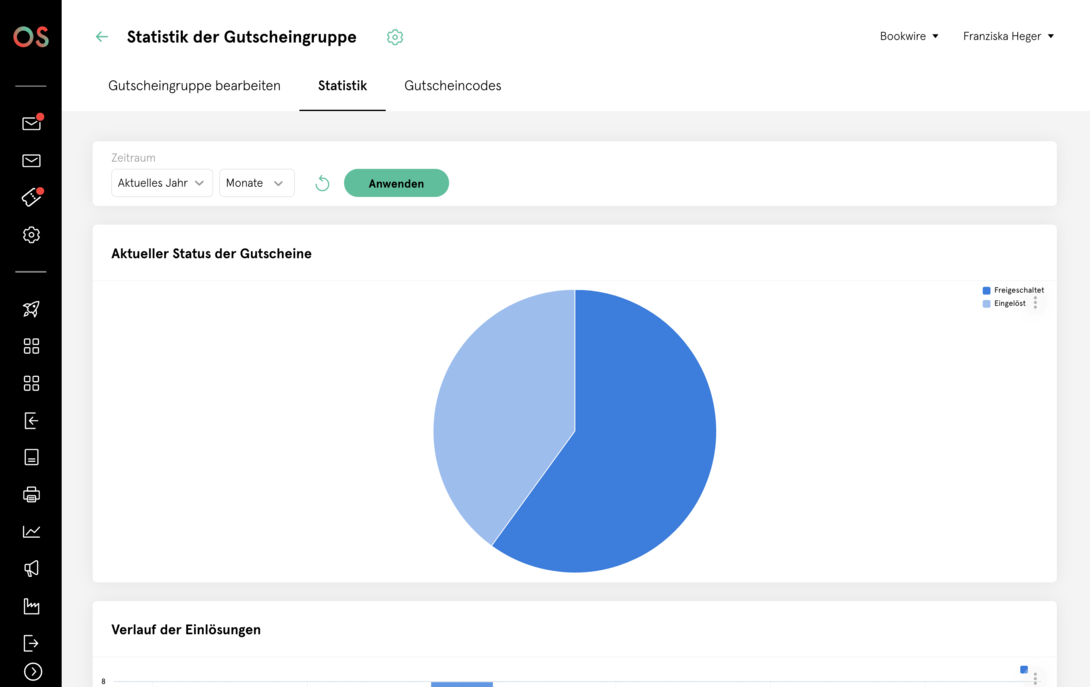 Raffle, giveaway campaign or free gift at events? The practical voucher tool is a valuable asset for the easy implementation of promotional campaigns. We will send you the voucher codes for distribution, and then we will handle all the technical processes and the analysis.
Intuitive dashboards and KPI boxes deliver same-day trend data from all key shops. This means that you will have an overview of short-term trends, bestsellers, sales and revenues of all products in the various channels at your fingertips.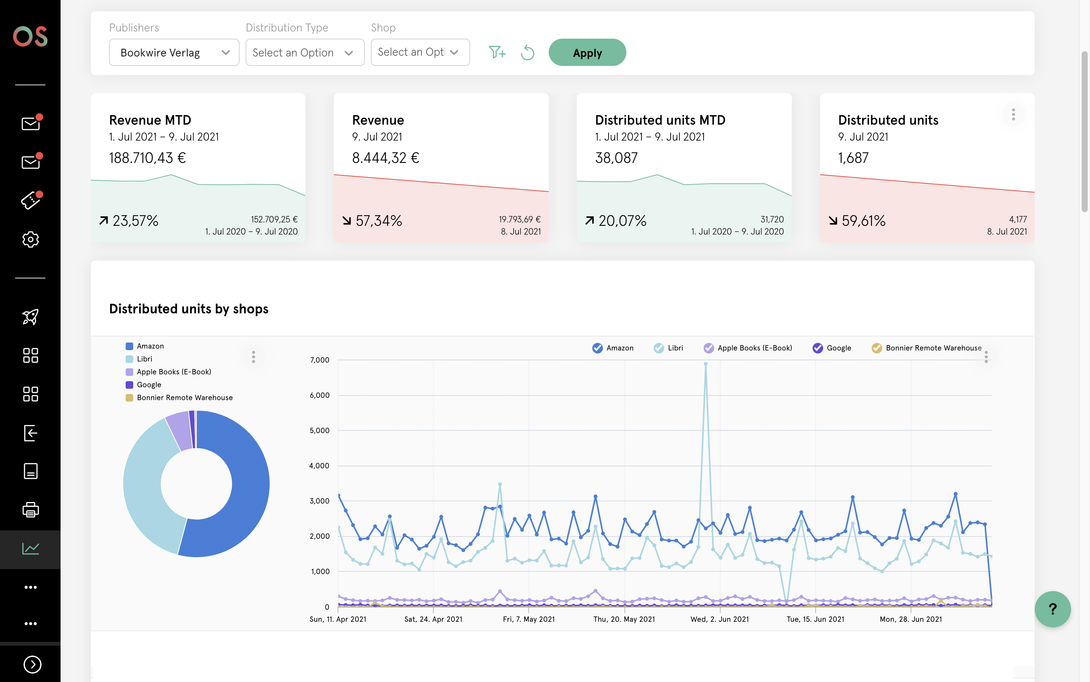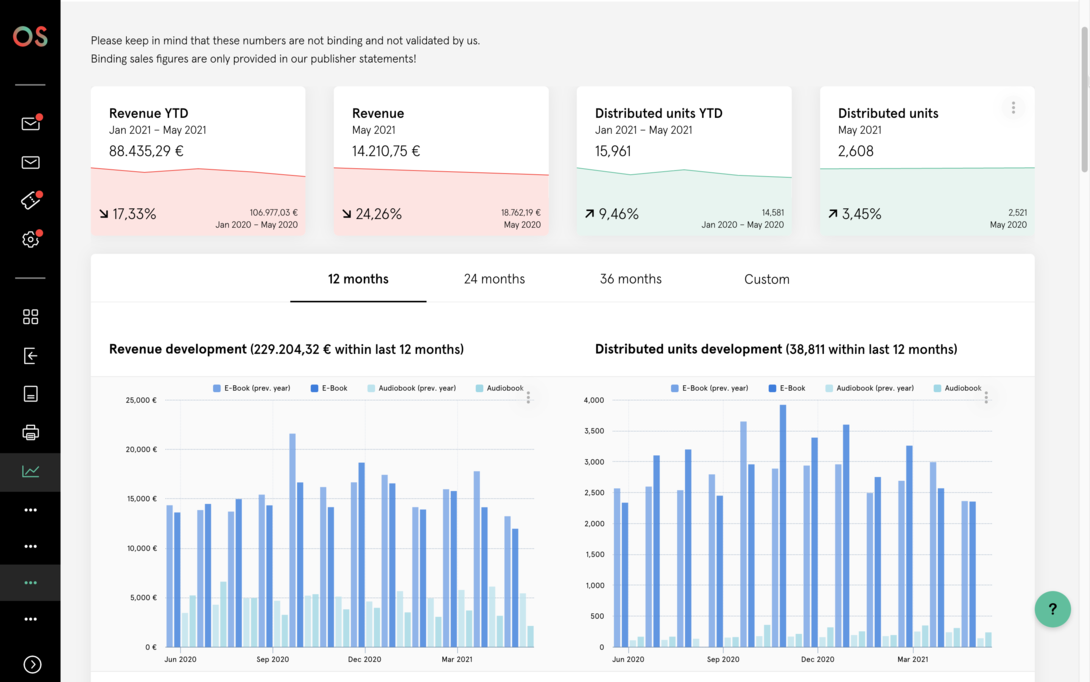 View automated year-on-year comparisons, revenue shares of the various business models, or the relevance of individual shops. Numerous informative charts will enable you to monitor business developments in your digital products across long periods of time – and you even have an export function.
Extensive audience analytics offer detailed insights into the performance of all audiobooks and the user behaviour in streaming portals: from the full catalogue down to individual titles. This is your chance to get to know your target groups.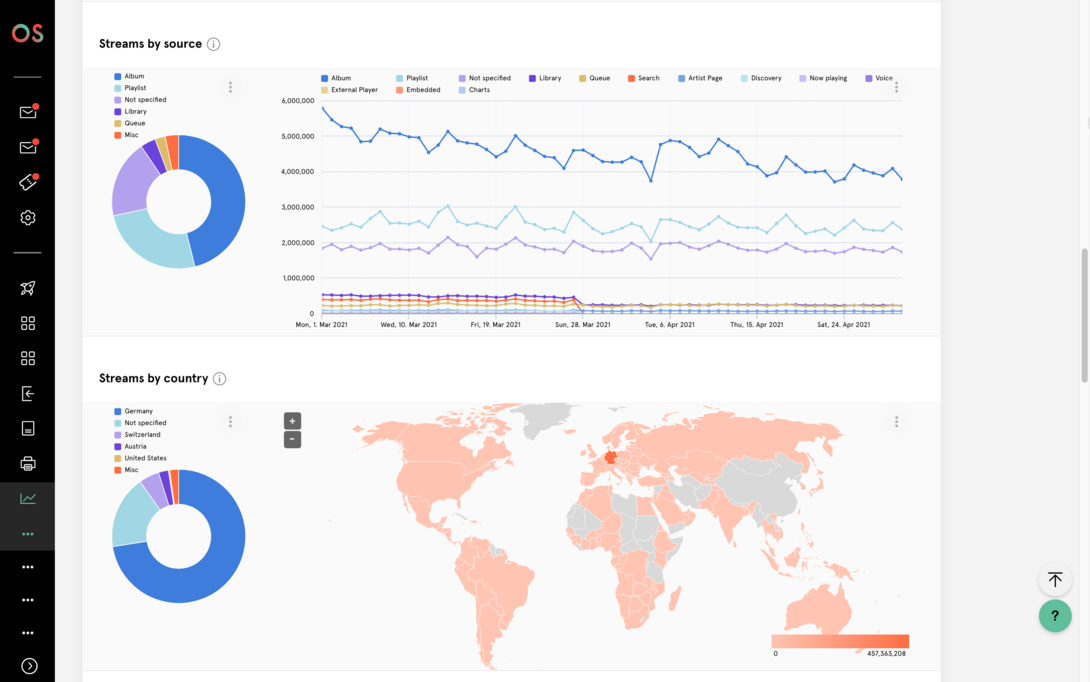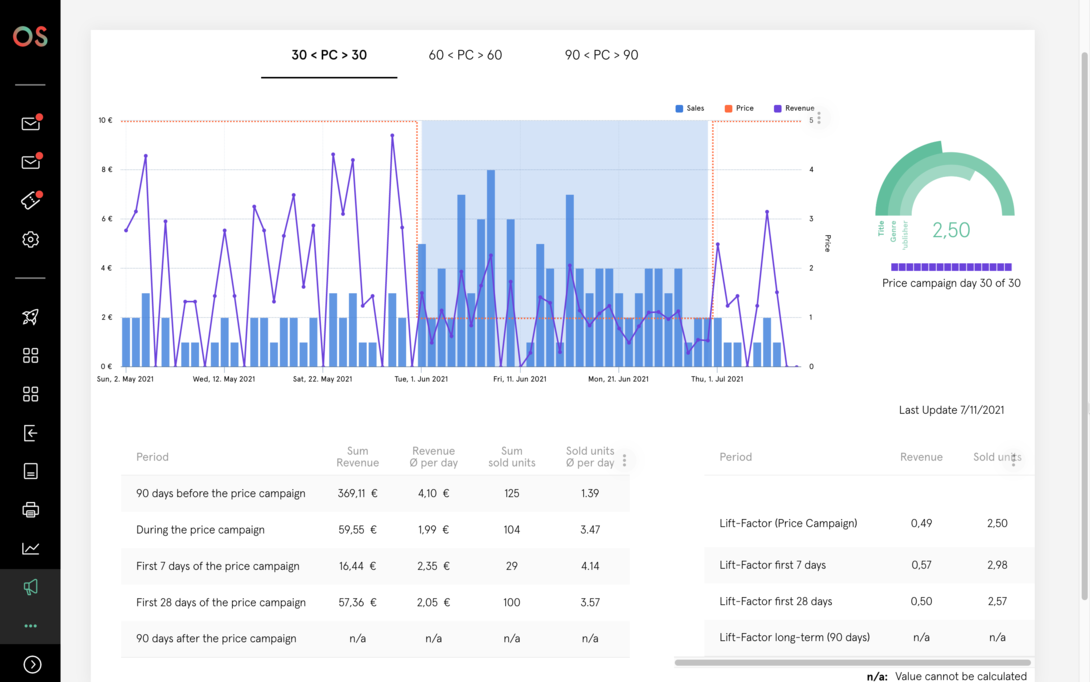 The automated sales and revenue-based analysis of previous pricing campaigns offered in Bookwire OS helps simplify future campaigns and marketing efforts. In addition to meaningful KPIs, the results visualise long-term effects following the completion of individual pricing campaigns.
The Amazon Analytics dashboard displays the Amazon Sales Rank of all products and their respective formats (print, eBook, audiobook), their progress and development. Additionally, the product categories, customer rankings and reviews of this important sales channel are captured.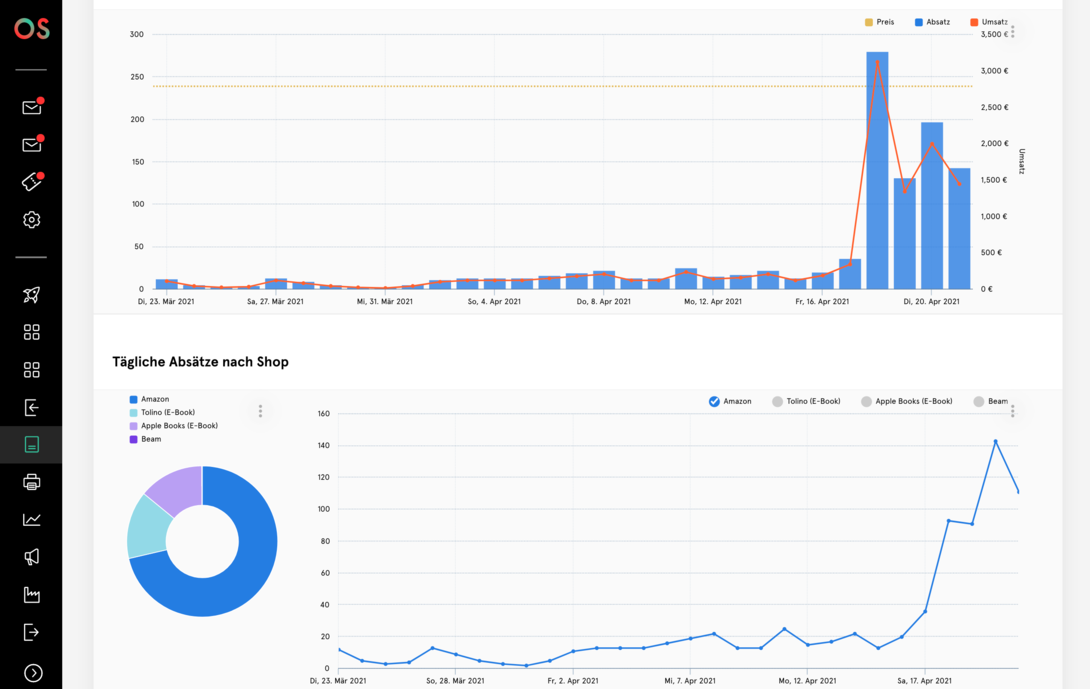 Your benefits at a glance.
eBook, audiobook and print-on-demand distribution via one central platform
All popular eBook and audiobook formats
Currency-specific and country-specific pricing
Flexible control over distribution rights & shop deliveries
Intelligent product lifecycle management (windowing)
Uncomplicated management of extensive title catalogues
Automated import of metadata and assets via dedicated interface points
Highly automated platforms for all processes
eBook productions via Bookwire OS
Audiobook streaming optimisation (BASS)
Automated metadata optimisation
24/7 deliveries to all shops
Automated implementation of campaign prices
Complete transparency for delivery and price checks
Powerful and informative analytics tools
Sales numbers & user data updated daily
Powerful marketing features like in-book promotion and pricing campaign analysis
Complete print-on-demand service with distribution link and drop shipment
Flexible combination of distribution and SaaS