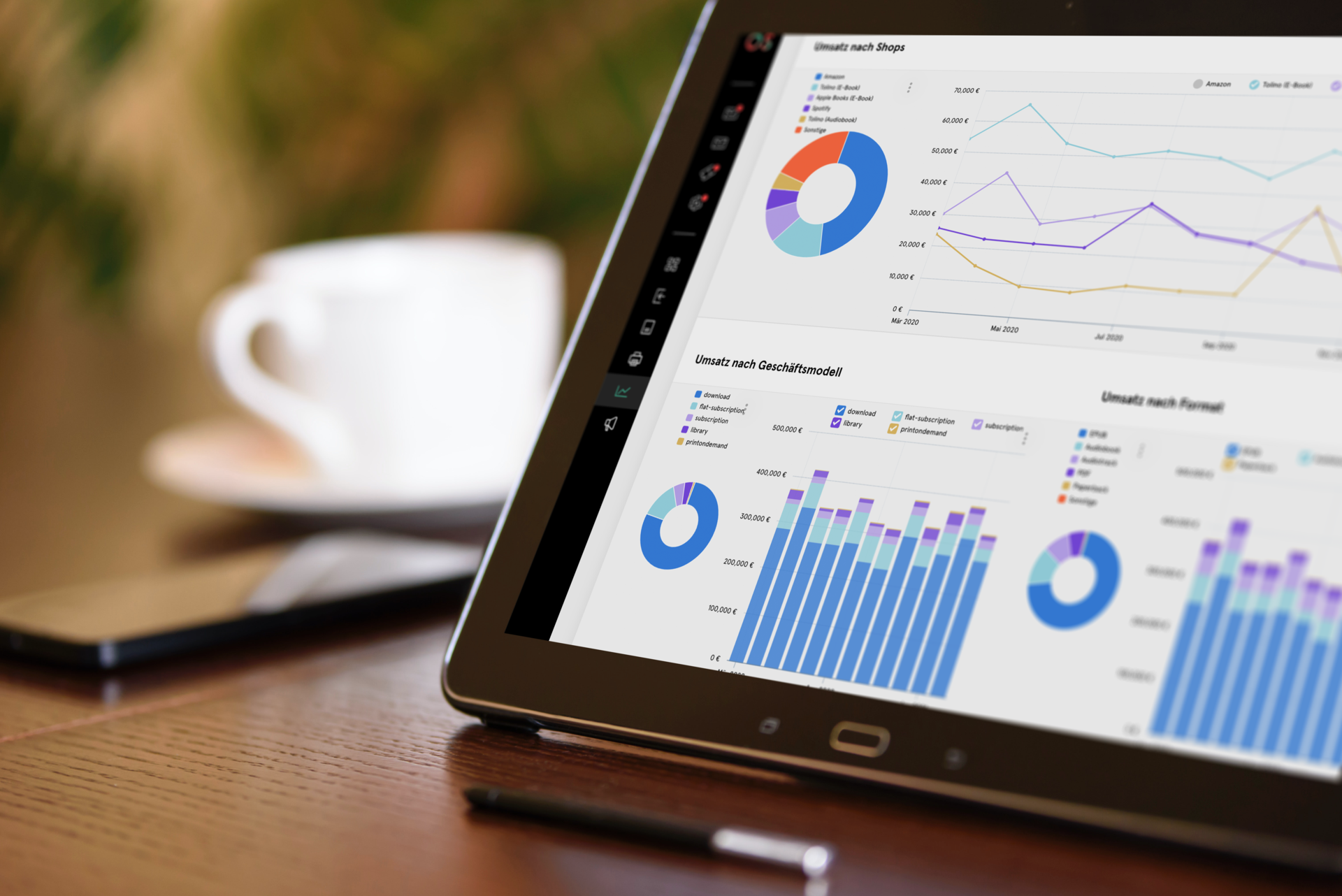 Keeping an eye on the success of your titles
Never miss another trend in your digital book sales thanks to the many analytics dashboards offered in Bookwire OS. Our detailed dashboards ensures that you can always keep an eye on the performance of your titles – allowing you to flexibly adapt your strategy to current trends.
Discover
Responding to the market quickly and flexibly
An effective pricing and marketing strategy is key to ensuring that your content achieves as much monetary success as possible. Bookwire OS provides publishers with a variety of tools that will help drive sales. The idea is that the ability to respond to trends quickly and flexibly creates a distinct advantage. In the fast-moving world of digital business, numerous KPIs for analysing sales figures, user behaviour or marketing success can offer a basis on which to make the right strategic decisions.
"As a publishing house, we use Bookwire Analytics for its quick and easy options to create detailed analyses for our ebooks. It allows us to put together analyses and meaningful dashboards by day, title and even individual customers."
Analysing KPIs and drawing conclusions
But how do you go about monitoring trends quickly and reliably? How do you find out which title did well in which shops and when, how important subscription models are for which types of products, or how impactful a social media campaign really was for sales numbers?
The analytics module in Bookwire OS maps various KPIs of your digital business – intuitively and via a state-of-the-art user interface.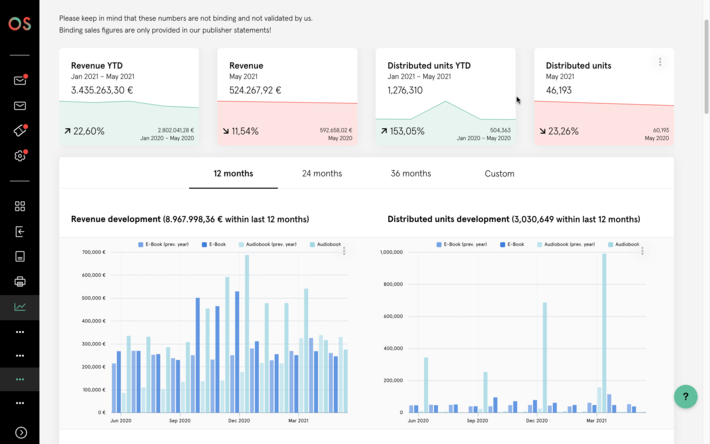 Analysis and deep dives on various levels
At the top level, Bookwire OS offers a complete overview of all current sales and revenues from your digital business – that way, you can always keep an eye on big developments.
You can also access various detailed analyses for each individual title – allowing you to analyse and optimise the entire product lifecycle of a title.
ebook, audiobook, print-on-demand: You receive valuable information about the revenue share of the shops supplied for each supplied format, the relevance of the individual business models (download, subscription, library, etc.), the year-by-year development of your catalogue, and more.
You can even customise your reporting in Bookwire OS and export it to share with your team.
Intuitive
The various dashboards with visual representations of the KPIs offer unique insights into the successes of your products and your promotional campaigns.
Amazon Analytics
Get detailed insights into the Amazon Sales Ranks of your products and find out what your customers think based on their rankings.
Access data on pricing, marketing efforts, business models or user behaviour in streaming and subscription providers. The detailed analytics provided in Bookwire OS offer a clear and structured overview of the performance of your titles. You will be able to make better decisions based on facts and figures.
Our team of experts will be happy to answer any questions you may have about our analytics features in Bookwire OS.